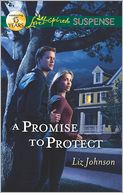 I've always enjoyed Liz Johnson's romantic suspense books, but I believe this one is her best yet! We've got a hot Navy SEAL hero and a heroine who nurtures and protects others while also kicking butt. There is great romantic tension and the suspense...well....every time I thought I could relax--boom! More than that, I walked away after reading the story really pondering the spiritual theme and how it applies to me. Seriously a page turner. Highly recommend!
On a side note, I got to meet Liz this year at the ACFW conference and I have to say she is so sweet! Such a blessing to know a new friend and spread the word about her book.
Even better--Liz is offering a FREE COPY today to the winner of the drawing. Enter your name and email address so I can contact you, and we'll hold the drawing after midnight EDT. Thanks, Liz!
In case you don't win,
CLICK HERE
to get your copy. Read below for further details about
A Promise to Protect
:
Navy SEAL Matt Waterstone knows about keeping people safe. When his best friend's sister is attacked, Matt promises no harm will come to Ashley Sawyer—not on his watch. But Matt's not the only protective one. Ashley will do anything to safeguard the residents of the battered women's shelter she runs. She's sure she can handle the threats she gets in return. What she
can't
handle is the way Matt scales the walls around her heart. Yet when she falls prey to a crime web far more sinister than she'd realized, trusting Matt could be the only way to survive….
Author:
After graduating from Northern Arizona University in Flagstaff with a degree in public relations, Liz Johnson set out to work in the Christian publishing industry, which was her lifelong dream. In 2006 she got her wish when she accepted a publicity position at a major trade book publisher. While working as a publicist in the industry, she decided to pursue her other dream-becoming an author. She is now a
New York Times
bestselling author of
A Star in the Night
(in
A Log Cabin Christmas Collection
),
The Kidnapping of Kenzie Thorn
,
Vanishing Act,
Code of Justice,
and
A Promise to Protect
.
Liz makes her home in Nashville, TN, where she enjoys exploring the local history, theater, and making frequent trips to Arizona to dote on her two nephews and three nieces. She loves stories of true love with happy endings.